May 11, 2016 6:49 am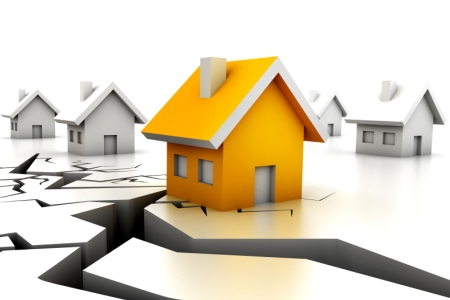 Though an uncommon occurrence, many areas of the U.S. are susceptible to earthquakes. Should homeowners in these risk regions purchase earthquake insurance?
According to the Insurance Information Institute (I.I.I.), earthquake damage is not covered under standard homeowners or renters insurance, and, in most circumstances, coverage must be purchased through a supplemental policy.
"All Americans need to be financially prepared, and have an up-to-date home inventory and an evacuation plan," says Janet Ruiz of the I.I.I. "Purchasing an earthquake policy will protect their home from the disasters that pose a risk to their personal safety and property."
Generally, the supplemental policy provides coverage for property damage brought on by cracking or shaking—other damage sustained as a result of the quake, such as fire or water damage, is typically covered by the standard policy.
It is important to note that homeowners in California have the option to obtain insurance coverage from the California Earthquake Authority (CEA). The CEA limits coverage to that of the insured value of the home, as stated on the standard homeowners insurance policy.
Earthquake insurance carries a deductible, generally in the form of a percentage of the insured value of the home, rather than a dollar amount. Insurers in states with a higher-than-average risk of earthquakes, such as Nevada, Utah and Washington, often set minimum deductibles at around 10 percent—equal to $10,000 on a home that would cost $100,000 to rebuild. In most cases, homeowners can get higher deductibles.
Only about one in every 10 households on the West Coast has coverage for quake-caused property damage, the I.I.I. reports. Still, earthquake insurance sales have risen, especially in Oklahoma, where fracking-induced quakes have become cause for concern.
"While we're seeing an increase in earthquake coverage in the most vulnerable states, everyone—no matter where they live—should contact their insurance professional to make sure that they have the right type and amount of insurance," says Ruiz.
Recently, central states have seen a spike in seismic activity, with a total of 32 quakes registering 4.0 or higher on the Richter scale last year. Umnak Island, Alaska, saw a 6.9-magnitude quake last year—the highest of the year—and a 6.0-magnitude quake hit South Napa, Calif., the year prior.
The costliest-ever earthquake, the 1994 Northridge quake, caused $15.3 billion in insured damages.
Source: I.I.I.
Published with permission from RISMedia.